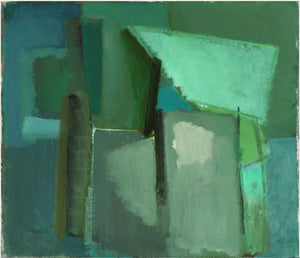 artist: Kjeld Hansen (Danish 1919-2012)
medium: oil on canvas
dimensions: 70 x80 cm
signed and dated 53

AU $2650 (approx US $1635 / 1465 EUROS / 176,500 yen / 1325 GBP - for exact current conversion visit xe.com)
artist biography

Kjeld Hansen was born on 20 February 1919 in Falster, Denmark. He was a Danish painter.

Hansen attended the Kunsthåndv in Copenhagen in 1938-1939. He then continued his studies under the Danish painter P. Rostrup Bøyesen between 1939-1940, and at the Kunstakad in Copenhagen from 1940-1945. He took study trips to Norway in 1949 and France in 1952.

Hansen's early works were traditional landscape from the island of Bornholm with an influence of fellow Danish artist Kristen 'Kræsten' Iversen (1886-–1955). Iversen was one of the Bornholm school of painters who, inspired by the island's landscapes and light, developed a distinctive modernist style of landscape painting. During the 1950's and 60s Hansen''s work became increasingly abstract with a lyrical, light colour palette and can be considered a modern extension of the Danish landscape tradition.

Hansen first showed his work in 1939 and exhibited extensively over his career as an artist. Select exhibitions include Oslo (1946 and 1962), Copenhagen (1959), Lund Konsthall, Art Gallery, Sweden (1959), Nordic Art 1951-61 at National Gallery of Iceland (1961), Philadelphia Museum, USA (1967) and with a couple of years exception annually with the Den Frie Udstilling (Danish Artists Association)'' from 1945 through to 1974.
Examples of his work are held in public collections in Denmark including the Bornholms Kunstmuseum, Museum Salling (Skive Museum), KUNSTEN Museum of Modern Art Aalborg, Fuglsang Kunstmuseum, Statens Museum for Kunst, Esbjerg Kunstmuseum and the Sorø Kunstmuseum.

Hansen passed away in 2012 aged 93.