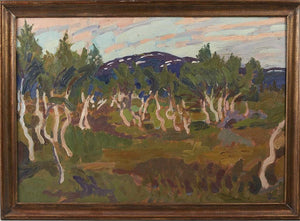 artist: Knut Almgren (Swedish 1878-1971)
medium: oil on panel
dimensions: 44x63 cm
signed and dated 1917
presented in its original frame
** ARRIVING SOON - contact us to register your interest
AU $1100 (approx US$715 / 650 EUROS / 103,500 yen / 565 GBP - for exact current conversion visit xe.com)
artist biography
Knut Einar Almgren born on September 14, 1878 in Stockholm was a Swedish artist and illustrator.

Almgren studied art under Aron Gerle in 1901, with Carl Wilhelmson at Valands målarskola (painting school) in Gothenburg between 1902-1905, and at the Konstnärsförbundets skola (Swedish Artists' Association) in Stockholm from 1905-1907. He had solo exhibitions at the Konstnärshuset in Stockholm in 1917 and 1919, as well exhibitions at Liljevalch's konsthall. A larger retrospective exhibition of his work from the period 1913-1948 was exhibited at Rålambshof's konstsalon in Stockholm in 1948. Best known for his portraits and landscape paintings often with scenes from Jämtland and the Stockholm archipelago. As illustrator he did work for Gustaf Ullman and Gustaf Nordqvist's 'Spela och sjung' which was published in 1925.

Examples of his work are held at the National Museum in Stockholm.

Almgren passed away in 1971 aged 93.
Please contact us regarding this item.