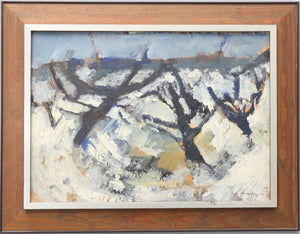 artist: Helge Lundström (1923-2011)
medium: oil on panel
dimensions: 57 x 41 cm panel/artwork size

signed & dated 1964
presented in its original frame

AU$550 (approx US $360 / 325 EUROS / 39,500 yen / 270 GBP - for exact current conversion visit xe.com)
artist bio
Helge Lundström was a Swedish artist born in Gislöv, Skåne on May 5, 1923.

Lundström studied art under Isaac Grünewald in 1946 and at Otte Skölds målarskola (painting school) in 1947 and subsequently during study trips to the Netherlands and England.

He had solo exhibitions in Simrishamn and participated in group shows with Skånes konstförening (Skåne's Art Association) and at Liljevalchs konsthall in Stockholm. Among his public works is a mural in Skillinge Savings Bank. Lundström's work included still lifes, figurative works and landscapes from Österlen and the French Riviera in oil, as well as drawings and illustrations. He together with Birgitta Geite published the book 'Sten, vatten, växter' (Stone, Water, Plants) and as an illustrator he produced work for Karin Brunk-Holmqvist's poetry collection 'Nära verkligheten' (Near the Reality).

Lundström passed away in 2011.