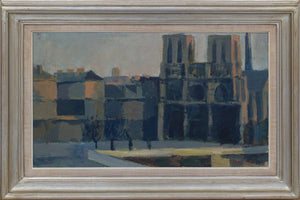 artist: Gerhard Nordström (Swedish 1925-2019)
medium: oil on canvas on panel
dimensions: 52 x 31 cm panel size / 67 x 46 cm frame size

signed
circa 1950s/60s
presented in its original frame
AU $880 (approx US $610 / 550 EUROS / 67,000 yen / 470 GBP - for exact current conversion visit xe.com)
artist bio
Gerhard Nordström , born August 15, 1925 in Lund , died March 13, 2019 in Ystad was a Swedish painter and graphic artist.
Nordström grew up in Sjörup outside Ystad and Gessie south of Malmö. He studied under Tage Hansson at the Skåne målarskolan (painting school) in Malmö between 1940 and 1942 and then under Fritiof Schüldt at the Kungliga Akademien för de fria konsterna (Royal Academy of Arts) in Stockholm from 1943 to 1949. He had his first solo exhibition in Malmö in 1950. Between 1964 and 1987 he taught with Staffan Nihlén in painting at the Konsthögskolan (School of Fine Arts) in Malmö.
Best known as a portrait and landscape painter. A notable commission came from the Swedish Parliament to paint speaker Thage G. Peterson. Nordström is represented at the Gothenburg Art Museum, the Moderna Museet in Stockholm, the Kalmar Art Museum, and the Malmö Art Museum.
He passed away on March 13, 2019 in Ystad, aged 93.