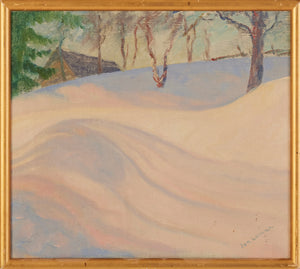 artist: Jon Loman (Swedish 1885-1937)
medium: oil on canvas

dimensions:  32 x 28 cm framed (approx)
signed
circa 1920s
AU $350 (approx US $235 / 210 EUROS / 32,000 yen / 185 GBP - for exact current conversion visit xe.com)
artist biography
Jon Olsson-Loman was born October 11, 1885 in Rättvik. He was a Swedish painter and illustrator.

Loman studied at Althins målarskola (painting school) in Stockholm. He had solo exhibitions in numerous Swedish cities including ones in Gävle, Uppsala, Eskilstuna, Skövde, Hjo and Örebro. Together with his brother Anders Loman (1879–1953) (who was also an artist, writer and art critic) he exhibited in Västerås in 1916.
His produced a number of public works include murals for Hjo Baptist Church, Skara Baptist Church and Östra Skaraborg County Hospital. Loman painted still lifes, figurative works, portraits, and landscapes  executed in oil , watercolour or gouache. As an illustrator, he participated in Salaposten and he did illustration work for magazines and books.
Loman passed away on June 20, 1937 in Tidaholm.